Reap Rewards with LogicLeads
Welcome to LogicLeads, the premier referral program designed exclusively for valued customers like you, who aspire to be rewarded for their influential network. By leveraging the power of LogicLeads, you can help us unlock new opportunities while earning enticing rewards along the journey. Join us today and empower your network to achieve greater success.

Sign Up: To start, simply submit your information and refer a colleague who would benefit from partnering with Logically.

We Set the Meeting: We'll take your submitted referral and reach out to set a meeting.

Earn Rewards: Once the meeting of your submitted referral is completed, we'll send you a reward.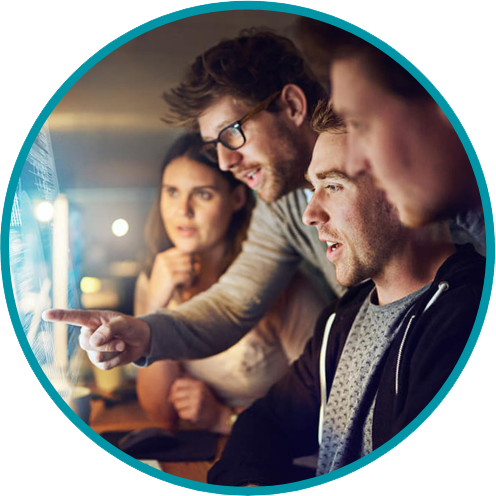 Thank you for being a valued customer of Logically! We appreciate your trust and loyalty, and we invite you to participate in our LogicLeads referral program. By referring your contacts to Logically, you not only help them discover our exceptional services but also unlock exciting rewards for yourself. Please fill out the referral form below to get started:
Rest assured that the information you provide will be treated with utmost confidentiality and will only be used for the purpose of contacting and engaging with your referred contacts.
Thank you for participating in the LogicLeads referral program. We appreciate your trust in Logically, and we look forward to rewarding you for your valuable referrals. If you have any questions or need further assistance, please don't hesitate to reach out to our dedicated support team.
Serious Security Solutions Start With a Cyber-First Approach
Keeping your data secure and operations running at peak performance is critical—but it's not the reason you do what you do.
Cybersecurity and managed IT services from Logically enable you to focus on your business, not the technology behind your business.
"We are a very driven organization, working hard to go beyond what is typically expected from a MSP or MSSP. Our customers want us to partner in every aspect of their business as experts in cybersecurity and IT services; and our employees continually go the extra mile to increase the capability of our team, so that we stay ahead of the market and ensure best in class solutions for our customers. As we enhance our end-to-edge-to-cloud capabilities, it is these elements and more that make Logically a leader, enabling us to deliver on our promises to our customers. And it is all this that lets us innovate with purpose."
- A word from our People Team